This post is also available in: Russian
This Flower can be used as a decoration of the finished product, and if there is perseverance, patience and enough yarn, you can create a Chinese roses and children's vest and plaid, and rug and all what forces enough.
Crochet with fun!
Video Tutorial How to crochet Chinese Rose

---
This post contains affiliate links. When you make a click through these links, I do receive commission. This small contribution helps support Crochet by Ellej and allows me to bring you some more great posts!
---
Scheme of Crochet China Rose
Chinese rose frame: 1, 2, 3 … 11 – ch-5 lp do in that order.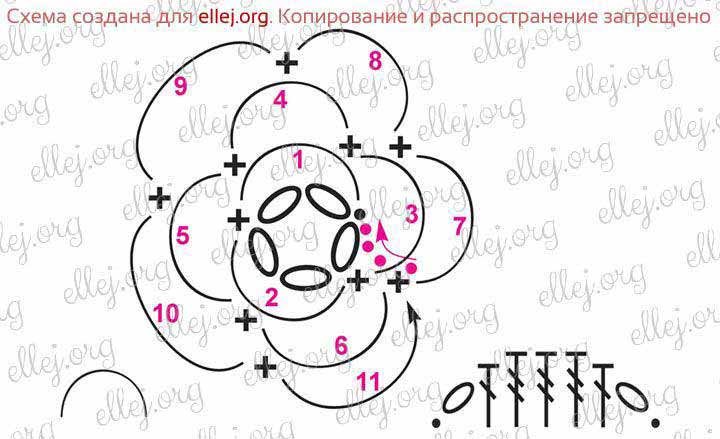 | | |
| --- | --- |
| Chinese rose frame: All the arches are made of chain 5 (ch-5 lp). | Petals: 1 chain, 1 double crochet, 3 treble crochet , 1 double crochet, 1 chain, sleep stitch. |
Photo tutorial How to crochet Chinese Rose
© Crochet by Ellej. All Rights Reserved. Any unauthorized copying, reproduction and broadcasting is strictly prohibited.
Все права защищены. Любое несанкционированное копирование, публичное воспроизведение и вещание материалов сайта строго запрещено.