Авторский контент! Чтобы поделиться материалом используйте кнопки соцсетей.
При цитировании материалов активная индексируемая ссылка на соответствующую страницу сайта ellej.org обязательна. © Crochet by Ellej.
I already have a Tutorial on Unseparated Crochet Flat Flowers. Since then, I took all the difficulties its making and remade a new one.
This time we make flowers with treble crochet stitches, instead of double crochets. Each petal consist of 5 stitches, like this:
5 treble crochet stitches;
chain 3 and 4 treble crochet stitches;
4 treble crochet stitches and chain 3;
chain 3 and 3 treble crochet stitches, chain 3.
Unseparated crochet has remained the same. At first make the lower halves of flowers in row, then the upper. Changed only the number of chains for the movement from the motif to the motif. I have chain 9, but you can work 10. It depends of the thickness of the yarn.
Crochet with fun!
Video Tutorial: Clover stitch • Unseparated crochet
Clover Stitch Chart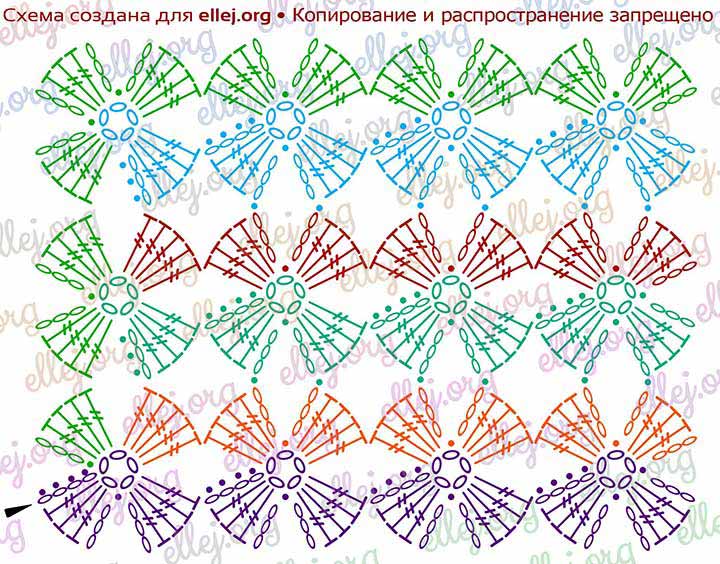 | | |
| --- | --- |
| Symbol | US Crochet term |
| | Start |
| | ch, chain stitch |
| | sl st, ss, slip stitch |
| | tr, treble crochet |
Photo tutorial: How to Crochet Clover Stitch
Click on the Ravelry logo to add Multi-blossom Clever Clover in your

projects.