Авторский контент! Чтобы поделиться материалом используйте кнопки соцсетей.
При цитировании материалов активная индексируемая ссылка на соответствующую страницу сайта ellej.org обязательна. © Crochet by Ellej.
I'm adding one more Solid Crochet Stitch in my collection of patterns and new symbol in the table of Crochet Symbols for Charts. In US Crochet term this stitch is called the extended single crochet (esc), and English – extended double crochet (edc).
Extended sc – instead of pulling through both loops at once, pull through one loop, then through remaining 2.
Did not expect, but in the program for drawing diagrams (I'm using Crochet Charts) already has such symbol.
This pattern is alternation of sc and esc. In each next row we work esc in sc, sc in next esc.
Stitch simply and dense, perfect for crocheting with knitwear yarn.
Crochet with fun!
Video: Crochet Stitch With Extended SC
Simply Crochet Stitch With Extended SC Chart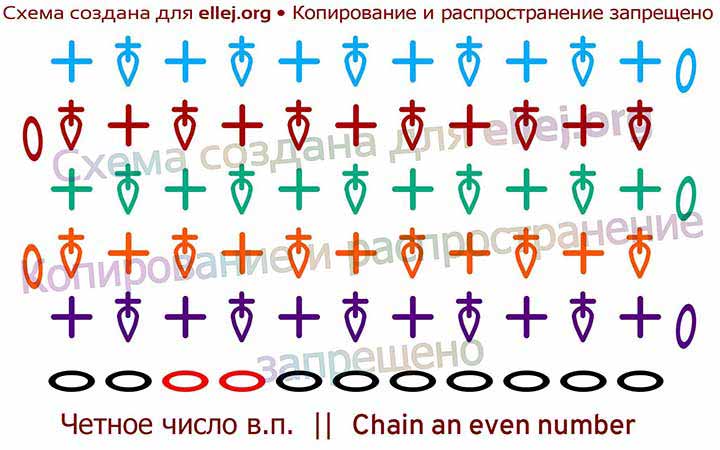 | | |
| --- | --- |
| Symbol | US Crochet term |
| | ch, chain stitch |
| | sc, single crochet |
| | ext sc, esc or edc (EN), extended single crochet |
Photo Tutorial: Simply Solid Crochet Stitch With Extended SC