Авторский контент! Чтобы поделиться материалом используйте кнопки соцсетей.
При цитировании материалов активная индексируемая ссылка на соответствующую страницу сайта ellej.org обязательна. © Crochet by Ellej.
This cord is so beautiful and so differently looks on various yarn. I have crochet a several samples when creating this tutorial. In this pattern I use a puff stitches. I would even say – very puff. Usually I work puff stitch of 3, a maximum of 4 half double crochet. In this lace they are already 5.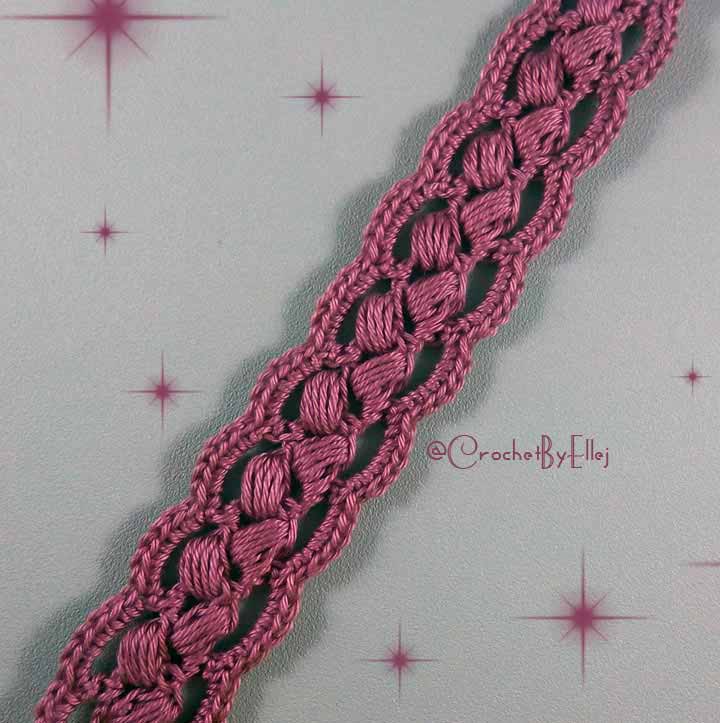 Edging The braid with arches of 5 chains, then row with single crochets. A ready-made i-cord can be used as a foundation chain. And Imagine a scarf made of such stripes… And now imagine that all the stripes of different colors… Is not it, beauty and originality?
Video: Lace i-cord for Irish crochet
The diagram is a little bit different from how I edged it. Here it is necessary to look on the type of yarn.
Lace i-cord Crochet Chartя

| | |
| --- | --- |
| Symbol | US Crochet term |
| | ch, chain stitch |
| | sl st, ss, slip stitch |
| | sc, single crochet |
| | hdc, half double crochet |
Photo Tutorial: Lace i-cord for Irish crochet
And some more photos with my samples.