Авторский контент! Чтобы поделиться материалом используйте кнопки соцсетей.
При цитировании материалов активная индексируемая ссылка на соответствующую страницу сайта ellej.org обязательна. © Crochet by Ellej.
I created a master class on crochetting this summer hat for a girl primarily for one wonderful person.
Vika has a two-year-old little girl named Erika, for whom her mother wanted to crochet a beautiful summer hat with such a pretty pattern. But numerous attempts with unraveling always resulted in the hat being too big. So, I decided to stop giving verbal advice and take my hook to personally crochet such a hat and know exactly how many pattern repeats are needed for a certain yarn and hook size.
Of course, by the time the master class on crochetting a hat for girls is released, little Erika will already be rocking her new accessory, but there are many other girls in the world whose mothers will also want to crochet such a hat for their princess. My lesson and crochetting patterns will help all of you!
How to Crochet Erica Children's Panama Hat.
Yarn Madame Tricote Maxi
Yarn composition: 100% mercerized cotton;
Footage: 565; Skein weight: 100g;
Needles No. 2-2.25; Hook number 1.5.
Crochet chart for panama "Erica" and symbols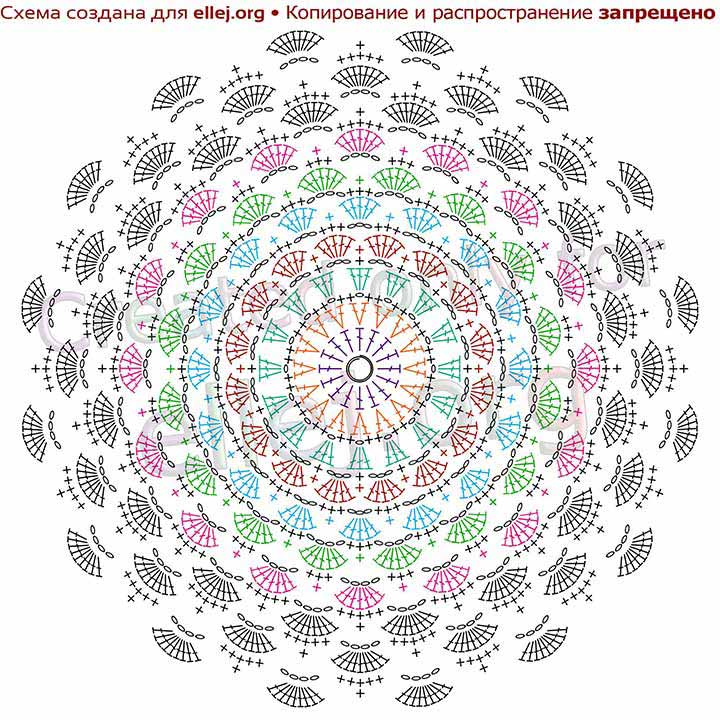 Символ
Symbol
US Crochet term
Обозначение
ch, chain stitch
в.п., воздушная петля, петля, цепочка из петель
Magic Ring
скользящая или волшебная петля, кольцо амигуруми
sc, single crochet
СБН, столбик без накида
hdc, half double crochet
полустолбик
dc, double crochet
ССН, столбик с накидом
Crochet pattern for the last rows of panama hat • Crochet ruffles

---
A small cheat sheet. After crocheting a circle, the pattern in the hat is distributed as follows: the number of double crochets in each shell row is 5, 5, 7, 7, 9, 9, 9, 9, 9, 11, 11.
To increase the size of the hat without changing the yarn or hook size, you can crochet 2 rows of 5, 2 rows of 7, and 2 rows of 9, and then in the row without shells, make a chain of 5 stitches instead of 4, and continue crocheting shell rows with 11 double crochets and the last 2 rows with 13 double crochets. You need to try and calculate what will work best for you.
---
I always recommend decorating a finished Panama hat, for example, with a flower, butterfly, or bow, or even a few appliques, so that both you and your child can easily find the front and back and not confuse the right side with the wrong side. Based on experience, without a "pointer" on a knitted hat, I found my daughter wearing her hat inside out and upside down about 90% of the time at daycare 🙂
_____
If you want to share this pattern, please share the link to this web page. Please do not distribute the crochet chart or accompanying photos in any other form.
You can support my creativity and simply say THANK YOU ♥ How to do it, see here → How to say thank you
Master class: Erica baby panama crochet