Авторский контент! Чтобы поделиться материалом используйте кнопки соцсетей.
При цитировании материалов активная индексируемая ссылка на соответствующую страницу сайта ellej.org обязательна. © Crochet by Ellej.
"Sakura" is a unique lace pattern from a Japanese magazine. With its help, you can create beautiful summer outfits and become a real star on any beach or in the city heat. The crochet pattern and recommendations in my article will help you bring this idea to life and excel at the task.
This pattern is perfect for crocheting a summer top, beach tunic, or pareo. It will not only add a beautiful element to your wardrobe but also serve as a great accessory that will highlight your individuality and originality.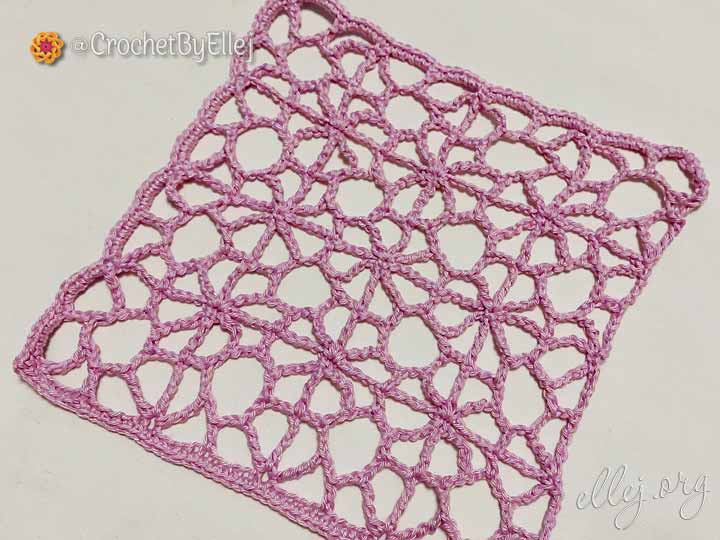 With the help of a crochet hook, you will create the lightness and transparency of the "Sakura" pattern, which includes images of blooming cherry branches.
To crochet this pattern, you will need yarn suitable for summer clothing and an appropriate-sized crochet hook. First you have to make a chain multiple of 12 and then begin crocheting the lace pattern according to the chart.
The pattern repeat in height occurs every three rows.
Step-by-step tutorial
Yarn: IceYarns Camilla Cotton
Hook: 3 mm
Crochet Language: American Standard Terms
Finished Size: You can easily increase or decrease the size by adding to your starting Ch; just make sure you start with a multiple of 12.
Ch – chain
Sc – single crochet
Dc – double crochet
Dtr – double treble crochet
Sk – skip
St – stitch
Crochet chart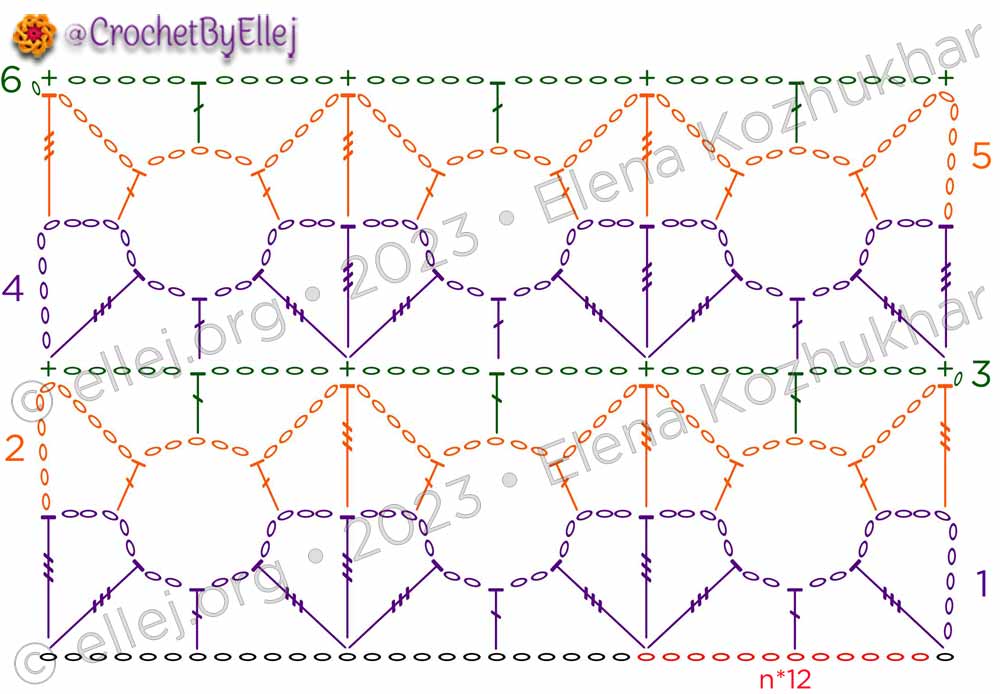 To Begin: Ch 60 (72, 84, 96 …).
Row 1: Dtr in 12 Ch from hook. Ch 2, Sk 5 Ch, DC in next Ch, Ch 2, Sk 5 Ch *(Dtr, Ch 5, Dtr, ch 5, Dtr) in next Ch, Ch 2, Sk 5 Ch, DC in next Ch, Ch 2, Sk 5 Ch across*. (Dtr, Ch 5, Dtr) in last Ch. Turn.
Row 2: Ch 11, *Dc in 3rd of Ch5, Ch 5, Dc in 3rd of next Ch5, Ch 5, Dtr in Dtr, Ch 5*. Dc in 3rd of Ch5, Ch 5, Dc in 3rd of next Ch11, Ch 5, Dtr in 6th Ch of Ch11. Turn
Row 3: Ch 1, *Sc in Dtr, Ch 5, Dc in 3rd of 2nd Ch5, Ch5*. Sc in 6th Ch of last Ch11. Turn
Row 4: Ch 11, Dtr in first Sc, Ch 2, DC in Dc, Ch 2, *(Dtr, Ch 5, Dtr, ch 5, Dtr) in next Sc, Ch 2, DC in next Dc, Ch 2*. (Dtr, Ch 5, Dtr) in last Sc. Turn.
Repeat rows 2, 3 and 4.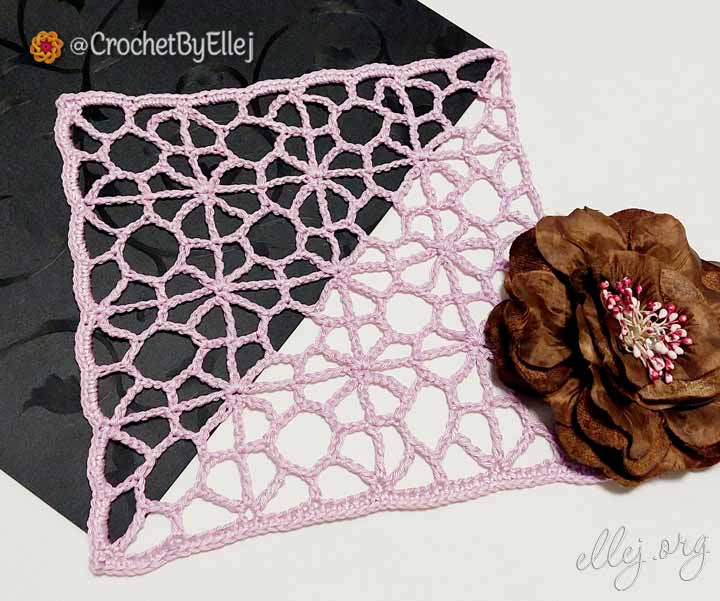 COPYRIGHT NOTICE
All pattern text and photos are © Elena Kozhukhar and may not be copied for purposes of redistribution online or in print. If you wish to share a pattern, please provide recipient with a link to the pattern instead. If you wish to use one or more of my patterns in a round-up on your own blog, you may use one (1) photo per pattern. You may sell your finished products; a link to https://ellej.org in your online listings is appreciated. For all other users, please contact me directly.
Your adherence to these guidelines is appreciated and ensures that I can continue providing quality patterns for free.