Авторский контент! Чтобы поделиться материалом используйте кнопки соцсетей.
При цитировании материалов активная индексируемая ссылка на соответствующую страницу сайта ellej.org обязательна. © Crochet by Ellej.
Another amazing crochet tape lace in my collection.
Wares from such elements look very elegant, and the work seems sophisticated. But in fact, everything is easy and simple. These tape lace can be used as an element, for example, the bottom of the skirt. And you can create a whole product: a blouse, a skirt, a dress or an openwork tippet.
Another special thanks to Tatiana Slyvchuk for providing the photo of her crochet lace top.
Crochet with fun!
Video: Crochet Tape Lace
Tape Lace Crochet Chart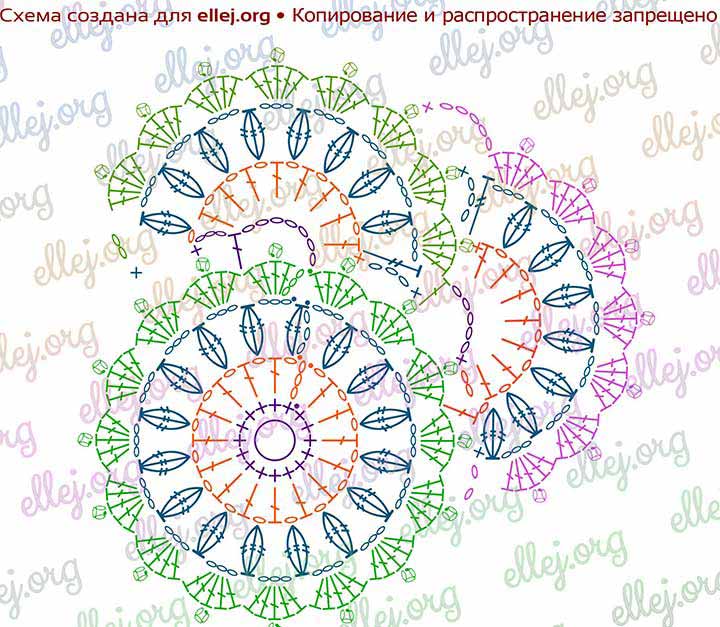 | | |
| --- | --- |
| Symbol | US Crochet term |
| | ch, chain stitch |
| | sl st, ss, slip stitch |
| | Magic Ring |
| | sc, single crochet |
| | dc, double crochet |
| | tr, treble crochet |
| | ch-3 picot, picot |
Photo Tutorial: Crochet Tape Lace
Free photo and video tutorial will help you learn how to crochet lace. Share this pattern with your friends if you like it!