Авторский контент! Чтобы поделиться материалом используйте кнопки соцсетей.
При цитировании материалов активная индексируемая ссылка на соответствующую страницу сайта ellej.org обязательна. © Crochet by Ellej.
Crocheting is not only a hobby, but an art of creating beautiful and unique things. If you are a fan of crocheting, then you should definitely try making the "Mojito" dress for your Paola Reina doll. This dress is simple, elegant, and perfect for any occasion.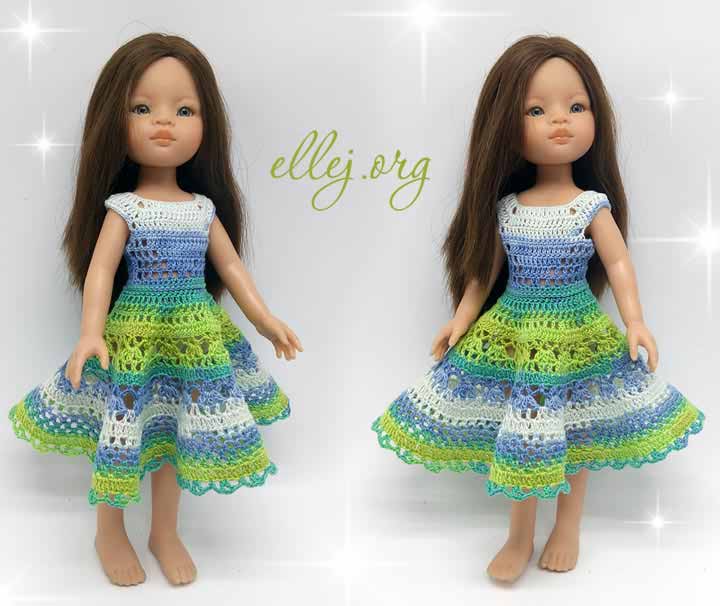 The "Mojito" dress is crocheted using section yarn to create a vibrant and eye-catching color pattern. The recommended materials for this project are a 1.75 mm crochet hook, section yarn, and buttons for the back closure.
The dress is crocheted from the top down, with the skirt portion increasing as it goes. The pattern includes clear and colorful diagrams that will guide you every step of the way. You can choose to create the dress in any of the recommended colors, or use your own color scheme to make it unique.
The dress features a button closure on the back, allowing for easy dressing and undressing of the doll. The finished dress measures approximately 12 inches in length and is designed to fit a Paola Reina doll.
Doll height 30 cm.
Whether you're a seasoned crocheter or a beginner, the "Mojito" dress pattern is easy to follow and fun to create. With its bright colors and comfortable fit, it's sure to be a hit with any Paola Reina doll owner.
How to crochet the "Mojito" Dress for Paola Reina Doll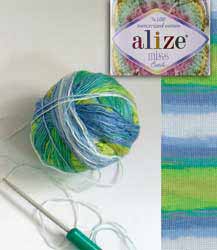 So. You will need:
Yarn Alize Miss Batik (100% mercerized cotton, 280m in 50g) very, very little (color 3713 or any other of your choice).
Hook 1,75 mm
About 4-5 cm Velcro tape for fastening or a few small buttons.
In this masterclass, I focused more on the crochet charts rather than detailed instructions such as "put the hook here, make a couple of stitches there, and so on." So, I apologize for those who cannot read crochet charts and highly recommend mastering this essential skill.
Symbols in crochet patterns (US)
Символ
Symbol
US Crochet term
Обозначение
ch, chain stitch
в.п., воздушная петля, петля, цепочка из петель
sl st, ss, slip stitch
соединительная или слепая петля
sc, single crochet
СБН, столбик без накида
dc, double crochet
ССН, столбик с накидом
2 dc in 1 st
2 столбика с накидом с общим основанием
dc2tog, double crochet 2 together
2 столбика с накидом с общей вершиной
2 dc cluster
2 столбика с накидом с общей вершиной из одной точки (кластер)
FPdc, Front Post double crochet
лицевой (выпуклый) рельефный столбик с одним накидом
ch-3 picot, picot
пико из трех петель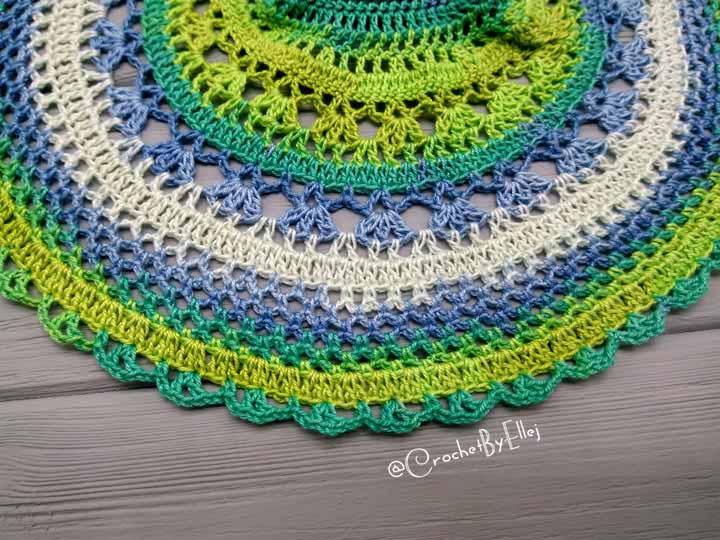 We'll crochet the bottom of the dress with the "Tulips" pattern, and it will gradually widen. By the way, you can make the dress shorter or longer, it's up to you and your favorite doll.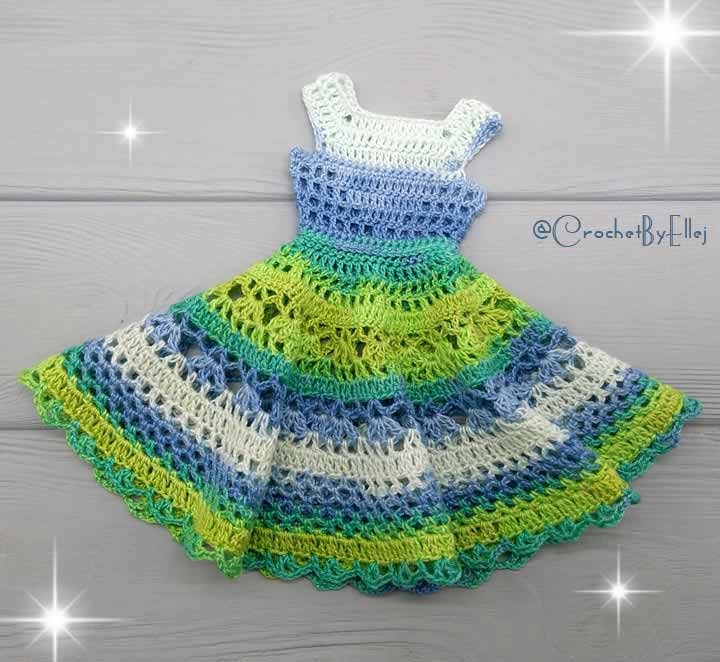 All about the sizes and measurements of the Paola Reina doll – here.

Your Paola Reina doll will look stunning in this crochet dress "Mojito". Get creative by using different colors of sectional yarn to make your dress stand out. If you are a beginner, don't hesitate to give it a try, the instructions are easy to follow, and you'll be amazed at your final product.
Crocheted "Mojito" Dress for Paola Reina Doll: photos with description