This post is also available in: Russian
The pattern consists of two repetitive rows, so it will be very nice to look at multi-colored stripes. With that, no matter what row you start with another color – even or odd.
This pattern can be a little easier if you make dc instead of tr and if you make in the arches two dc instead three.
Interestingly looks wrong side pattern – squares. Still, it looks like wrong side.
So, crochet with fun!
Video: Diagonal treble crochet stitch pattern Tutorial. English subtitles are available
---
This post contains affiliate links. When you make a click through these links, I do receive commission. This small contribution helps support Crochet by Ellej and allows me to bring you some more great posts!
---
One more pattern photo: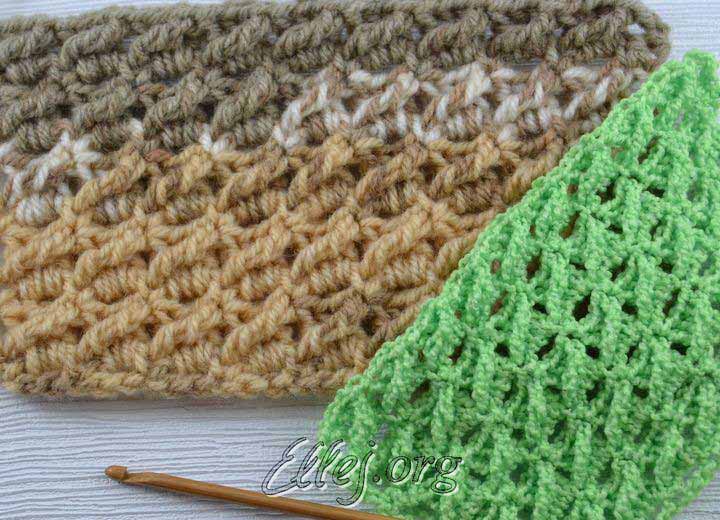 Diagonal treble crochet stitch chart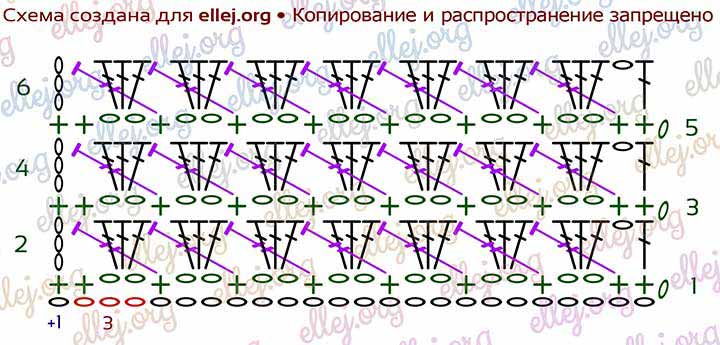 Символ
Symbol
US Crochet term
Обозначение
 ch, chain stitch
 в.п., воздушная петля, петля, цепочка из петель
 sc, single crochet
 СБН, столбик без накида
 dc, double crochet
 ССН, столбик с накидом
 tr, treble crochet
 СС2Н или С2Н, столбик с двумя накидами
Photo tutorial Diagonal treble crochet stitch pattern
Подпишитесь на новости
Subscribe to newsletter
Спасибо! Подписка оформлена / Thank you for subscribing!
Something went wrong.
© Crochet by Ellej. All Rights Reserved. Any unauthorized copying, reproduction and broadcasting is strictly prohibited.
Все права защищены. Любое несанкционированное копирование, публичное воспроизведение и вещание материалов сайта строго запрещено.