Авторский контент! Чтобы поделиться материалом используйте кнопки соцсетей.
При цитировании материалов активная индексируемая ссылка на соответствующую страницу сайта ellej.org обязательна. © Crochet by Ellej.
Today I want to show one more very beautiful double-sided stitch for crochet. In its beauty it is not inferior to the pattern "Zephyr", but work it easier, and it has one advantage – this crochet stitch suitable for working things which are visible front and the reverse side – scarves, blankets.
Children's clothing, made with this stitch will have a very delicate look, especially if you pick a suitable lighter pastel colors yarn.
Crochet with fun! Share your photos of works with me in groups in social networks.
Video Tutorial: Yellow Sea crochet stitch
Yellow Sea crochet stitch Chart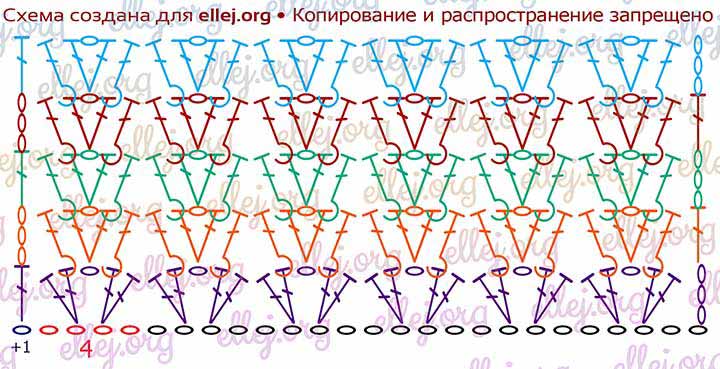 | | |
| --- | --- |
| Symbol | US Crochet term |
| | ch, chain stitch |
| | dc, double crochet |
| | 2 dc in 1 st |
| | FPdc, Front Post double crochet |
Photo tutorial: Yellow Sea crochet stitch