Авторский контент! Чтобы поделиться материалом используйте кнопки соцсетей.
При цитировании материалов активная индексируемая ссылка на соответствующую страницу сайта ellej.org обязательна. © Crochet by Ellej.
Autumn we already half pleases warmth, but begins to insinuate that it's time to warm. And will not be superfluous now starting to work shawls and scarves for those who want to please the crocheted gift their loved ones.
I have never had a crocheted shawl. I don't really understand the beauty of this accessory, until one day at the my office haven't slightly frozen and my friend offered wrapped in her shawl. The sensations were unforgettable.
And ever since I became more focused on creating shawls crochet tutorial. I determined to come up in the world of shawls something of my own.
Crochet with fun!
Video Crochet Tutorial: Moon Butterfly Crochet Shawl
Moon Butterfly Crochet Shawl symbol diagram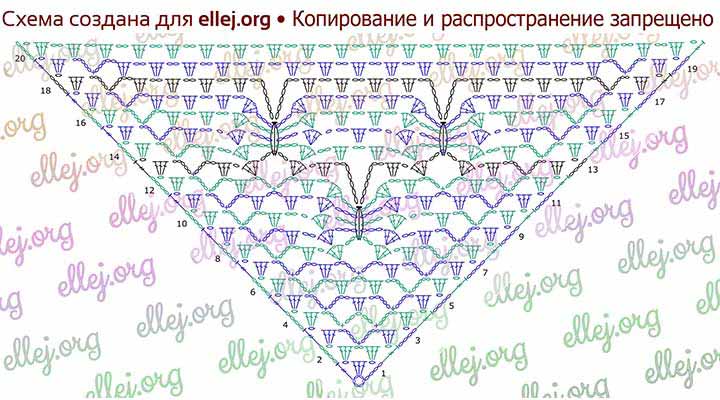 | | |
| --- | --- |
| Symbol | US Crochet term |
| | ch, chain stitch |
| | sc, single crochet |
| | dc, double crochet |
| | tr, treble crochet |
| | puff stitch of 3 hdc |
This crochet shawl is worked from bottom corner. Start with one Butterfly further in each row of the butterflies is 1 more.
Note! Rule 6 → 1 → 1 → 6. The idea is to crochet a row, the number of which ends at 6 as working a row, the number of which ends at 1. In this row will be more to multiple 1. For example: Row 16 begin in the same as row 11. From the middle of the row we work symmetrically. 21 row begin in the same way as 16, adding 1 multiple more. 26 row the same as 21 row and so on. When the shawl will be desired size work some as in diagram 2 shows a row 21 and followed by the chart.
At the end – in next row Butterfly places we work groups of 3 dc as a granny's square. Thus we will leveling the edge and give shawl triangle form.
When shawl is ready, you must edging it. Edging I leave to your discretion. This may be broad and laced edging or Solomon's knots, or something else.
Photos from my followers: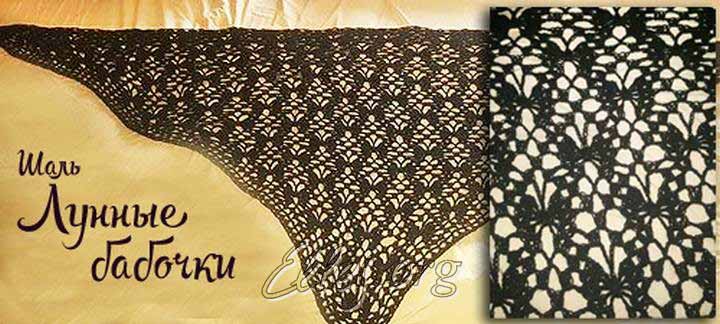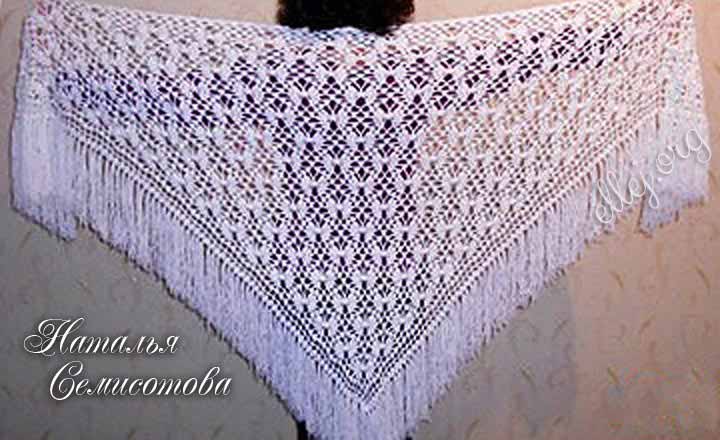 Photo tutorial: Moon Butterfly Crochet Shawl
Аdd Moon Butterfly Crochet Shawl in your

projects.