Авторский контент! Чтобы поделиться материалом используйте кнопки соцсетей.
При цитировании материалов активная индексируемая ссылка на соответствующую страницу сайта ellej.org обязательна. © Crochet by Ellej.
This 3d crochet stitch pattern are known and loved by so many knitters. But to understand it beginner in crocheting is not always easy, I hope my photo tutorial will help you with this.
Twelve words about: beginning working frame for scales, and in the next row create scales. The pattern is specific, so you need to think a little before beginning.
It looks great for cowl, purse, or the famous crochet crocodile booties. A single row of scales can use as an edging.
In the tutorial I showed several variation how to crochet the scales. They can be big or small, hanging in the air or be undivided part of the canvas.
Crochet with fun!
Video: Crocodile Crochet Stitch

The upper diagram shows how the frame is made. On the bottom chart is scales of the frame. The shape of the scales depends on the number of double crochets.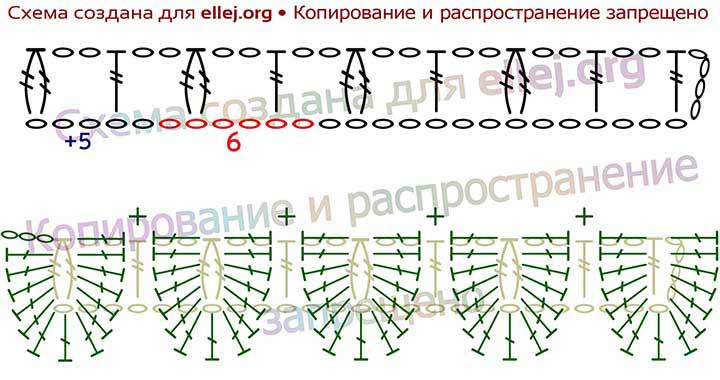 | | |
| --- | --- |
| Symbol | US Crochet term |
| | ch, chain stitch |
| | sl st, ss, slip stitch |
| | sc, single crochet |
| | dc, double crochet |
| | tr, treble crochet |
| | 2 tr cluster |
Photo Tutorial: How to Crochet Scales or Crocodile Stitch