Авторский контент! Чтобы поделиться материалом используйте кнопки соцсетей.
При цитировании материалов активная индексируемая ссылка на соответствующую страницу сайта ellej.org обязательна. © Crochet by Ellej.
Bright and practical Crochet Coaster is a good way to keep table surface from damage and it looks like a mandala.
This Potholder free pattern is ideal for those who are just learning to crochet. But for crocheters who engage in large projects is an excellent method of relax and reboot. The Coaster, you also can give children for games or to give to friends as a non-binding "just because" gift. And if you think where the yarn remnants apply look at this photo tutorial.
Materials: hook #3.5mm (US: E/4) and leftover multiple colors yarn.
Video: Colorful Crochet Coaster
Colorful Coaster Crochet Chart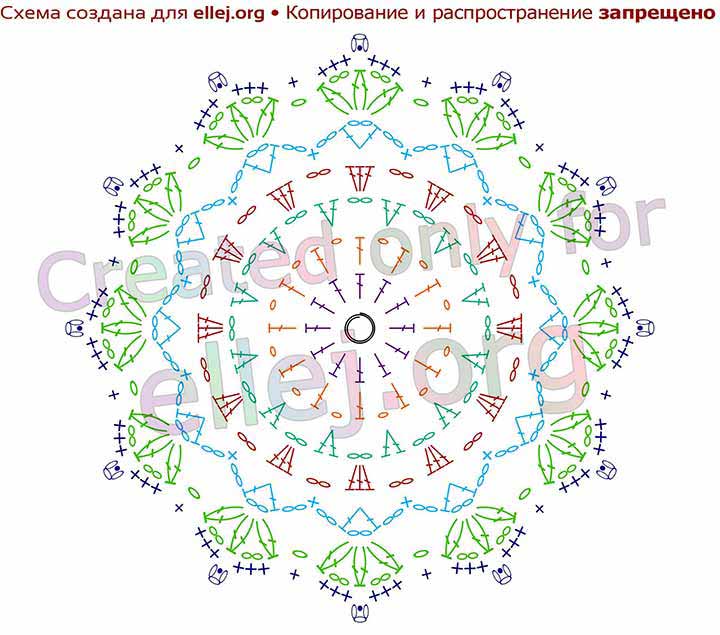 | | |
| --- | --- |
| Symbol | US Crochet term |
| | ch, chain stitch |
| | sl st, ss, slip stitch |
| | Magic Ring |
| | sc, single crochet |
| | hdc, half double crochet |
| | dc, double crochet |
| | 2 dc in 1 st |
| | ch-3 picot, picot |
| | 2 dc cluster |
Photo Tutorial: Colorful Crochet Coaster