Авторский контент! Чтобы поделиться материалом используйте кнопки соцсетей.
При цитировании материалов активная индексируемая ссылка на соответствующую страницу сайта ellej.org обязательна. © Crochet by Ellej.
Today I will show How to Crochet Jasmine or Star Stitch Pattern in Rounds.
РУССКАЯ ВЕРСИЯ When working this pattern, we get a barely noticeable seam, which is shifted to the left from row to row.
In the tutorial I will show 2 options like starting each row. In the first variant, the seam should go spirally to the right, the second option – the seam goes to the left.
And if you alternate them (one row – the first option, the second row – the second option), then the seam will always be in its place.
Crochet with fun!
Video: How to crochet Jasmine or Star stitch pattern in rounds
Star Stitch Pattern Crochet Chart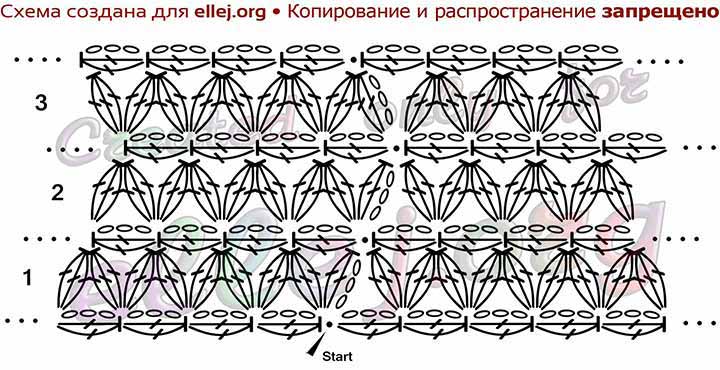 Photo Tutorial: Jasmine or Star crochet stitch in rounds