Авторский контент! Чтобы поделиться материалом используйте кнопки соцсетей.
При цитировании материалов активная индексируемая ссылка на соответствующую страницу сайта ellej.org обязательна. © Crochet by Ellej.
This crochet pattern I came up with very fast, and that's how it embed into shawl I had to invent. That is why at the beginning and end of each rows we work half double crochets.
Lacy spiders are in a diamonds of the FPdc and BPdc, which height lower than double crochets.
Lacy Spiders Shawl Crochet Stitch is quite difficult for beginners. So you need to get used to work front post, back post and crossed double crochets before start on crocheting. I hope, that for experienced difficulty does not arise. To make it even easier, I'll give some hints.
Actually in a pattern just 3 different rows, to which I gave the names of:
Row "Spiders". Are rows in which we make chain spiders.
Row "Eight". Row with 8-loops chains.
Row "Split" is a row, which at the beginning and at the end we do split and inside several working crossed FP/BP dcs.
Depending of working side (front or back) we work Front Post or Back dc respectively.On the diagram: "Spiders" rows with FPdcs – blue color, "Spiders" rows with BPdcs – red color.
I planing to make the symbol diagram for fabric with "Lacy spiders", that soon you will be able to see the Patterns+charts Category.
Crochet with fun!
Video Tutorial: Crochet Lacy Spiders Shawl
Crochet Lacy Spiders Shawl Chart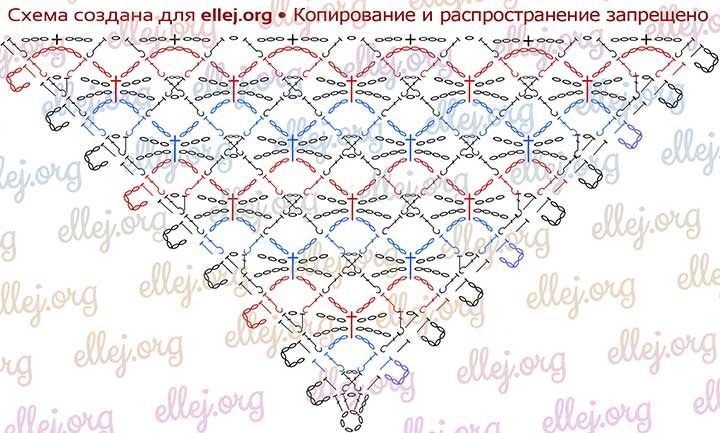 | | |
| --- | --- |
| Symbol | US Crochet term |
| | ch, chain stitch |
| | sc, single crochet |
| | hdc, half double crochet |
| | dc, double crochet |
| | FPdc, Front Post double crochet |
| | BPdc, Back Post double crochet |
Photo tutorial: Crochet Lacy Spiders Shawl